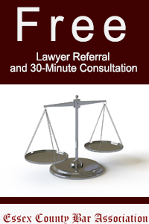 Free lawyer referral and 30 minute consultation. Click here for our online referral form or call us at: 978.741.7888.
The Lawyer Referral Service (LRS) is a service of the Essex County Bar Associationin Salem, Massachusetts, a non-profit organization for attorneys. The ECBA LRSconsists of many attorneys in every field of law to assist you with your case. Each ofthese attorneys agrees to provide a free 30 minute consultation to clients referred by us on a problem in an area of law in which he or she regularly practices. There is no cost for the referral.
Although all areas of law are represented, our most common inquiries concern family law, estate planning, business organizations, landlord/tenant, criminal defense, personal injury, and employment. We also maintain a reduced fee panel of attorneys. If you are a low income client, please call and inquire about this service. Proof of household income is required.
How It Works
1. Call us in MASSACHUSETTS at 978.741.7888, or fill in the online lawyer referral form below. Our LRS staff will assist you in choosing the appropriate attorney who will help you with your specific area of law. Please note that there are no attorneys in the office, and that Massachusetts law prohibits us from giving legal advice.
2. Once we have identified the type of lawyer you need to speak with, we may refer you to an attorney in the closest geographical area to you for your convenience. However, state regulations prohibit selection of attorneys based on gender, race, religion, or other protected classes. You may then contact the attorney to set up an appointment for the free thirty minute consultation, either in the attorney's office or over the telephone.
3. The lawyer will advise you on your problem, and if additional services are needed beyond the initial thirty minute consultation, will discuss the fees needed to handle your matter further. This, of course, depends on the nature and extent of the legal matter.
4. All information received is strictly confidential.
Online Lawyer Referral Form